Resume / Curriculum Vitae
Project Manager and Automation Engineer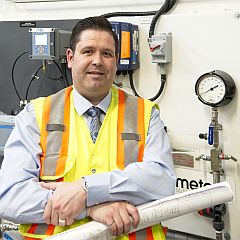 Graham Nasby, P.Eng., FS Eng., PMP, CAP is an industry-recognized leader in the water/wastewater community for his efforts with PLC/DCS/SCADA systems, standards development, raising cybersecurity awareness, and alarm management. Through his work with the International Society of Automation (ISA) and IEC, he has coauthored international standards in alarm management, cyber security, and HMI (human machine interface) design. He has also worked with the ISA, American Water Works Association, Water Environment Federation, and other industry groups to author numerous articles on PLC and SCADA best practices. He has also acted a general symposium chair, program committee chair, and moderator for numerous industry events.
As a project manager and technical leader, Graham works at the forefront of the automation, controls, SCADA, and Instrumentation communities. He is frequently sought to author opinion articles for industry publications, including InTech, OpFlow, Pipeline, Influents, and Control Engineering, and to speak at conferences and universities. In addition to having exceptional skills in technical writing and presentation delivery, Graham excels at user needs assessment and project management. Graham also has considerable experience with long term facilities planning, and capital project delivery, including managing consultants and contractors. At present, Graham is responsible for the long-term planning, design, construction/implementation, and commissioning of automated control systems for the City of Guelph Water Services. Before he joined the city, he spent 10 years with various consulting firms providing master planning, standardization, and control system design/implementation services to a variety of industries. Prior to his work in the water sector, Graham did project management, design and commissioning/validation work in pharmaceutical industry.
Please feel free to contact me.